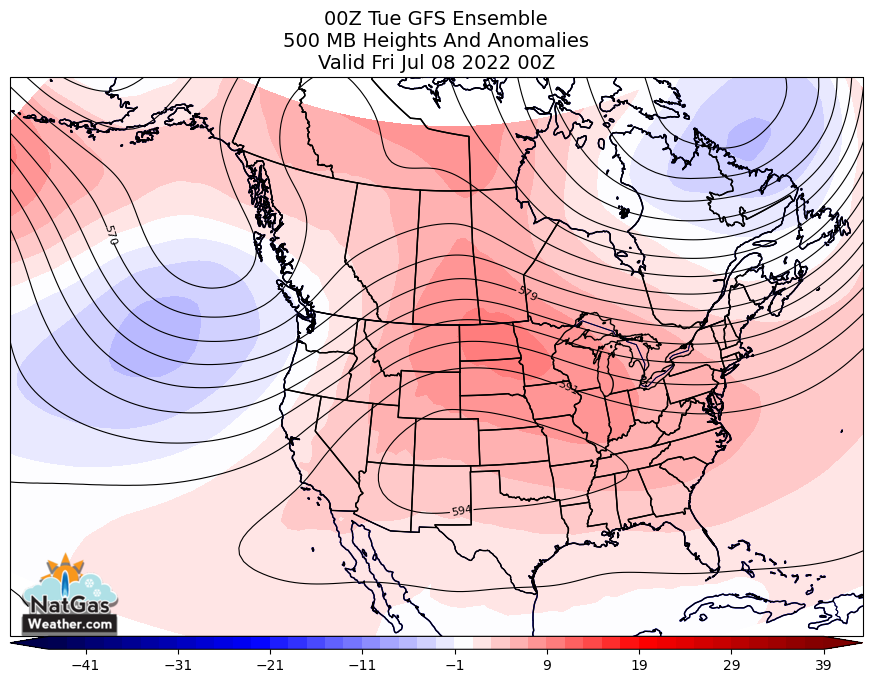 By natgasweather
Hot & Bullish US Pattern Rules Most of US July 1-12
June 28, 2022: Both the GFS and EC trended hotter by 5-6 CDDs over the past 24-hours and plenty hot enough to be considered rather bullish July 1-12 as strong upper high pressure rules most of the US w/highs of upper 80s to 100s for strong national demand. Until then, seasonal national demand will continue through Wed as weather systems and associated cool fronts sweep across the interior US w/comfortable highs of 70s and 80. Regionally strong demand will occur over California, the Southwest, and portions of the Plains, Texas, and the Southeast w/highs of 90s. National demand will increase late in the week through next week as the hot upper ridge strengthens and retakes ground over the interior US w/highs of 90s gaining in coverage, including up the East Coast. The overnight data trended a little hotter July 1-12 as the hot upper ridge expands to rule most of the southern 2/3 w/highs of upper 80s to 100s for strong national demand. While the coming pattern is plenty hot enough, it would simply be more ominous if not for the Freeport LNG outage partially offsetting.
We must expect volatile trade today w/July'22 expiration, although bigger picture deficits in US supplies are expected to hold near -340 Bcf into the foreseeable future to keep the background state relatively bullish. To our view, if weather patterns remain hotter than normal most days in July and August, as we expect, the damage inflicted from the Freeport outage will be minimized for now.
The graph below is from our Live HDD/CDD data and highlights after moderate demand today, national demand will become quite strong June 1-12.