US Natural Gas & Heating Weather Forecast
Strong Winter Storm To Hammer Northern US Into Wednesday

Reinforcing Cold Fronts To Sweep Through Midwest and Eastern US This Weekend
Currently Updating Forecast…
Forecast Summary: (March 12th – March 18th) A mild day is in store for much of the nation today as temperatures warm to above normal across many regions, significantly easing nat gas and heating demand. The warm up will be short lived over the Midwest and eastern US as a strong winter storm and accompanying cold blast sweep through over the coming days. A heavy snow event is expected to across the Ohio Valley and into the Northeast with a wide area receiving more than 6-10″ of snowfall. The associated cold front should push fairly deep into the Southeast with freezing temperatures expected over many regions. However, the coldest air associated with this initial cold blast will be confined to the Great Lakes and Northeast with lows dropping into the single digits and teens. There is expected to be a very short break Friday into Saturday as temperatures warm slightly ahead of the next reinforcing cold blast to follow over the weekend as well as the potential for additional light northern US snowfall. Additional cold outbreaks will follow into next week over the northern US, again focused on the Great Lakes and Northeast.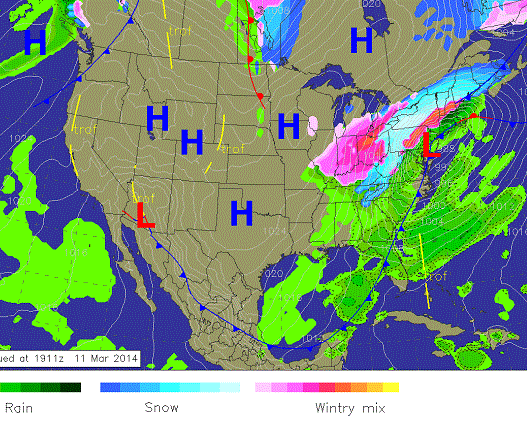 Wednesday Weather: A major wither storm will track through the northern US with heavy snowfall over the Great Lakes and New England. Rain will change over to snow over the Northeast coast, but accumulations will be limited. A cold blast will follow into the Midwest and eastern US over the coming days. High pressure will dominate the western US with dry and mild conditions.
8-14 Day Outlook Summary: (March 19th – 25th) Cold air will be over the Great Lakes and eastern US during the first several days of the outlook as several weather systems track through. However, milder conditions are expected to push into much of the central and eastern US during the second half of the period, easing nat gas and heating demand.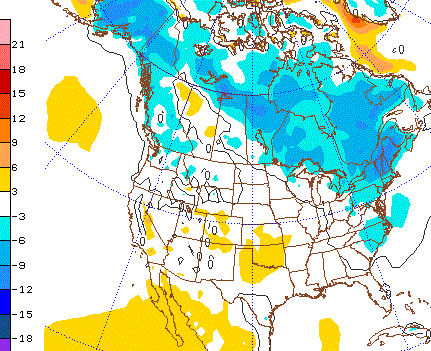 8-14 Day Outlook: A weather system and associated cold blast will impact the Great Lakes and eastern US to start the outlook period and last through the first several days. Milder conditions will build into much of the nation the second half of the outlook along with strong spring like storms.
8-14 Day Outlook Details: (March 19th – March 25th): Cold air associated with a weather system tracking through the northern US should start the the outlook period. How cold over the Midwest and Northeast is still a bit in question as the forecast models are struggling between a pretty impressive cold blast for the Midwest, Northeast, and Mid-Atlantic or a just a moderately cooler than normal one. Either way, these regions should see several days of cooler than normal temperatures and above normal nat gas demand start the outlook period. A strong storm is expected to develop around the 21st-22nd in the Plains and should produce a warm surge of milder air into all of the central and eastern US as it winds up. This will likely lead to above normal temperatures over all of the central and eastern US except for the Midwest and Northeast where it will be just closer to normal. There are still lots of ways this brief warm pattern plays out and will depend heavily on the track of the storm. It very well could be another warm trap. If fact we are leaning that way as we suspect as soon as this several day warm surge plays out, additional cold blasts will immediately follow. Because cold air will be lurking over southern Canada during this entire process, there is potential for the warm up again be muted or last a bit shorter than what the models are currently advertising. We know national forecasts will again bite on this warm pattern and it will likely again be over-hyped, but know it's a very sloppy and active pattern with the potential for warm surges, strong winter storms, and cold outbreaks, but overall it favors colder than normal conditions to return for the last week of March.
Natural Gas & Heating Demand (compared to normal): MODERATE – HIGH Days 1 -15.

Weather Market Threat: Days 1-15: HIGH – VERY HIGH Days 1 – 15. (Market needs to show reaction soon or will downgrade)

Market Effect: (For March 12th) – Nat Gas prices sold off slightly Tuesday but did little to reveal where it will go next as it remains in a tight trading range, but it does feel like prices are coiling and ready to spring one way or the other. The coming weather pattern weather pattern still favors it springing to the upside but has shown that for quite some time with little reaction. The coming big winter storm for the northern US should bring some hype, but would be more effective if the track was slightly further south as to bring heavy snow and colder temperatures to higher population regions along the Northeast coast. When the cold does set in as the storm tracks out of the US, it will remain for the coming 10 days. There will be a day or two during this time where temperatures moderate over the highest use states of the Midwest and Northeast, such as Friday into Saturday, but each time it will be countered with an unseasonably cold blast of Canadian air. This will play out until March 21st when another warm surge will bait those following the 8-14 day outlooks into thinking a nice prolonged warm up could be coming and in all likelihood it won't be as additional cold blasts continue through the northern US. This will lead to higher than normal nat gas draws through March and likely into April . We know any draws to come will be less than -100 Bcf draws due to the strong sun angle and milder southern US, but the replenishing of supplies will likely be delayed a bit longer as theydrop below 1.0 Tcf. This should support prices when considering coming weather patterns and already tight supplies.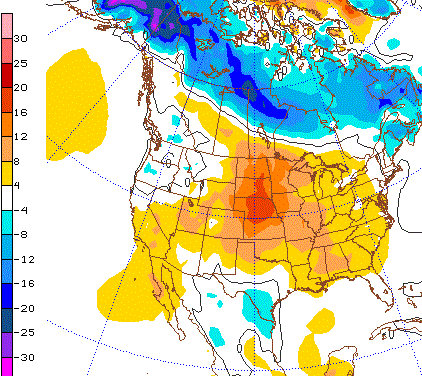 Warm air will surge into the eastern into Tuesday providing above normal temperatures across much of the nation besides over New England. Cold air pooling over southern Canada will push into the northern US Wednesday as a strong winter storm rolls through.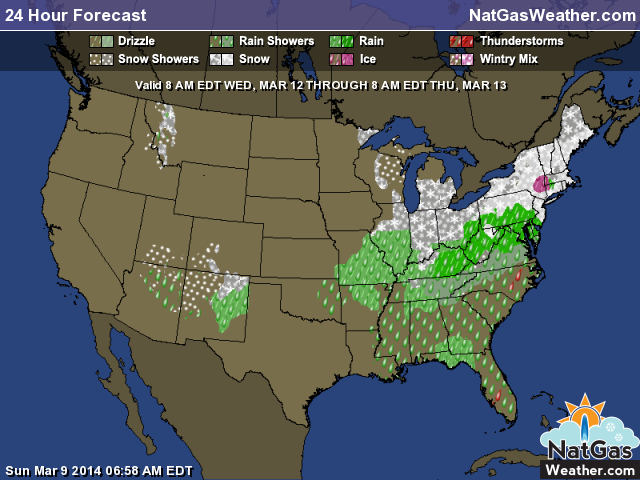 strong winter storm will push into the Great Lakes and Northeast Wed-Thurs and should lead to some decent snowfall accumulations.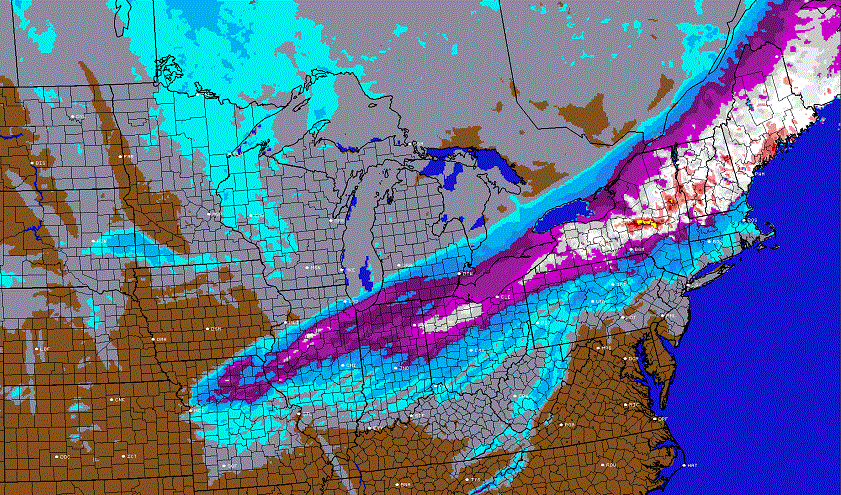 This coming winter storm will put down a hefty swath of snowfall. The latest image from Tuesday shows a forecast model prediction through late Thursday. Purples indicate more than 6″ of snowfall with whites closer to a foot. The Ohio Valley into portions of the Northeast should get hit pretty hard. The exact track will likely need some fine tuning so these amounts could vary. The current track would bring rain to the immediate coast followed by snow as the storm is exiting, leading to modest accumulations.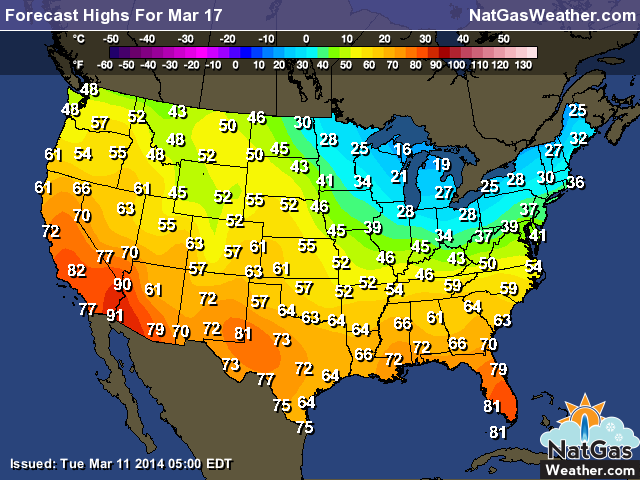 Highs this coming Sunday after a reinforcing cold blast sweeps into the Midwest and Northeast as high struggle to get above freezing. Much milder conditions will be experienced over much of the rest of the country, easing demand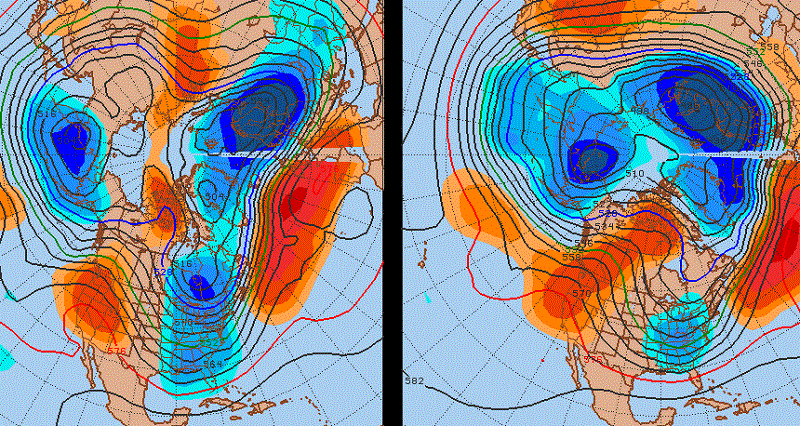 The image shows the upper air weather patterns averaged from around March 15-19th with ECMWF model on the left and the GFS on the right. They both show a deep cold trough over the northern and eastern US with the EC colder than the GFS. So feel free to bet it's going to be warmer than normal during mid-March.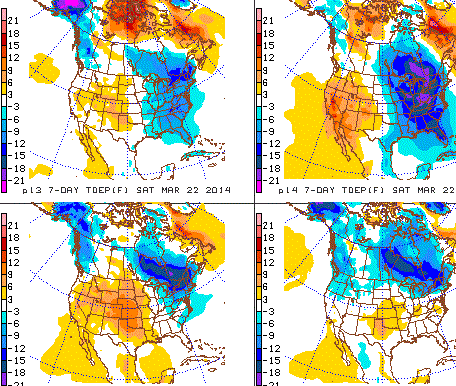 There are lots of ways the cold plays out for the week ending around March 22nd just as milder conditions are about to push in. There is still some uncertainty on how much cold air will be tapped and brought into the US. Some scenarios bring the cold deeper into the eastern US (top two) while others keep it mainly over the Great Lakes and Northeast (bottom two).