US Natural Gas & Heating Weather Forecast
Milder Late This Week Followed By Another Prolonged Cold & Wintry Pattern Next Week 
Thursday Mid-Day Forecast Update: The morning forecast data continues to come in but we have seen enough of next weeks pattern to say it should be quite cold and more so than the market have been led to believe. The models were whipsawing a little bit on how much cold Canadian air the system tracking through would grab. Many national forecasts and media bit on it not being very impressive. Not the best idea with this type of pattern and the amount of data that supported it wouldn't play out so warm. It's not a 100% certainty quite yet as there are still a few outliers but it looks very good. So next Tuesday a decent shot of some Midwest and Northeast snowfall along with the return of much colder than normal conditions are in store. There are a few reinforcing cold blasts that will keep the pattern anchored through the following weekend leading to strong nat gas and heating demand. Thereafter there are still many ways the forecast can play out. The models have been whipsawing between a decent warm push into the Midwest and Northeast and a less than impressive one. We still think it's a trap and will again lead the big market players and media down the wrong path. Not much good that does us until the big market players are on board and that could take some time. So we will sit and wait patiently as the models digest a bullish weekly report and the fact that another very cold week will be waiting to greet them when they arrive next week. So maybe, just maybe, storage and the continued cold weather patterns will grab the markets attention. It sure seems like it should based on historical prices and supplies.
Forecast Summary: (March 6th – March 12th) A few days of milder conditions will gradually push into the central and eastern US, easing nat gas and heating demand. A weather system tracking through the Southeast today will lead to moderate to heavy showers and isolated thunderstorms. After the brief warm up, a weak Canadian cool front will push into the northern US Saturday and Sunday with marginally below normal temperatures along with pockets of light snowfall. Another brief break is expected Monday into Tuesday of next week is expected, which will allow temperatures to again briefly moderate before a more impressive and longer lasting cold blast pushes deep into the central and southern US by the middle of the week. Temperatures of 10-25F colder than normal will again become anchored over the highest use nat gas states of the northern US, providing another surge of strong nat gas and heating demand. In addition, widespread moderate to heavy snowfall is possible across many regions including the Mid-Atlantic and Northeast.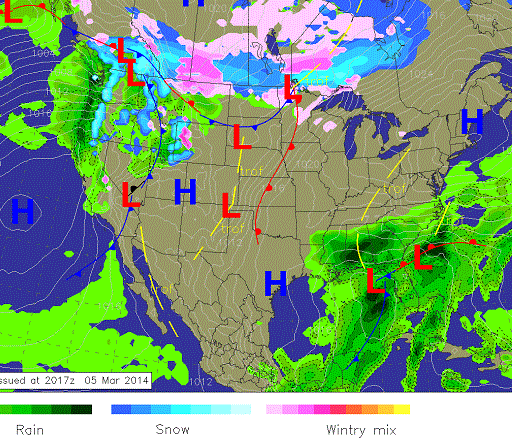 Thursday Weather: A weather system tracking through the Southeast will lead to showers and isolated thunderstorms. A surge of milder temperatures will push into the central and eastern US over the coming days ahead of a fresh Canadian cold front moving getting ready to push through the northern Plains. Wet weather will continue over the northwestern US for one more day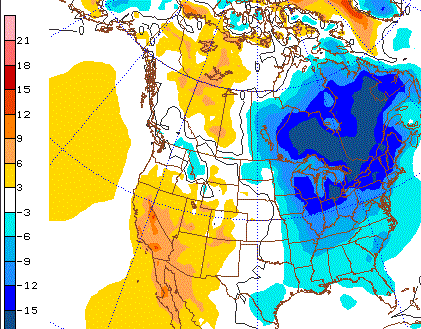 8-14 Day Outlook: Much colder than normal conditions are expected over the Midwest and Northeast with modestly colder than normal conditions over the Southeast. The West will remain mild and at times push into the Plains. Temperature departures averaged over period.
8-14 Day Outlook Details: (March 13th – March 19th): A fresh cold blast will start the outlook period and keep below normal temperatures ongoing across much of the northern US. There will likely be several winter storms tracking across the nation with each one bringing a reinforcing dose of cold Canadian air. The cold pattern that plays out late next week will be quite cold, especially over the Great Lakes and Northeast and will hold for the first 5 days of the outlook as reinforcing cool blasts continue. However, late in the outlook period a strong storm will be winding up over the western US which will allow another temporary surge of warmer conditions into the northern US which will likely be the warmest these regions have seen in awhile. But again, it is an active pattern and colder conditions with winter storms will follow. It is with strong certainty the cold will be fairly expansive and impressive late next week while holding for several days but the forecast models are going to struggle with where the warm surge sets up and also how long it lasts. The outlook should bring a period of fairly strong nat gas and heating demand, which will further deplete supplies. After the warm up around the 19-21st, cold weather has a fairly decent chance of returning for the last week of March. But don't be fooled, the pattern is a cold one and there is nothing to suggest it's going to end anytime soon, even if a few days of milder conditions occurs.
Natural Gas & Heating Demand: MODERATE – HIGH Days 1 -15.

Weather Market Threat: Days 1-15: HIGH – VERY HIGH Days 1 – 15. (Market needs to show a reaction soon or will downgrade)

Market Effect: (March 6th) – The nat gas markets baited the bulls into thinking weather may actually matter again. After being up early, the markets went through some choppy trade before selling off to close the day. The coming draw will be fairly impressive and should be somewhere around -138 to -145 Bcf, which is a significantly greater than the 5 year average. When factoring the next two weeks draws, which include several cold blasts and strong nat gas demand, supplies most certainly will be dropping below 1.0 Tcf. If it does matter, the market has a good poker face by acting like it doesn't care. Maybe it doesn't and the end of the season supplies are going to be ample enough for the market to feel comfortable. We just find it a bit hard to believe that all of a sudden the markets don't care about supplies and weather after make such a big deal of it for months. Well time is running out and we will find out very quickly if they have just been showing a good poker face and bluffing. Tomorrow's storage report will likely force some hands and if it comes in with a bigger than normal draw with another week of cold weather staring them in the face, then maybe buyers will return to the market. But right now we think it's best to be cautious even though the coming cold will continue to burn supplies at a steady rate. If the markets moved based solely on weather patterns, they would be supported until a prolonged warm up lasting more than a few days becomes likely, and we still don't see that anywhere in the charts.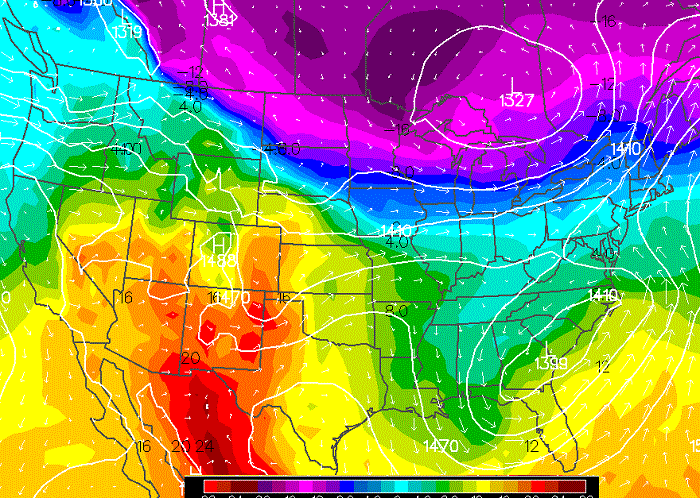 The pattern by the end of the week into the weekend will be a bit sloppy as cold air briefly retreats toward Canada. It will still remain quite chilly over the far northern US but will have modified over the Ohio Valley and Mid-Atlantic. Image shows temperatures just off the ground late Thursday with dark blues and purples representing very cold conditions. Image shows temps in Celsius a few thousand feet off the ground.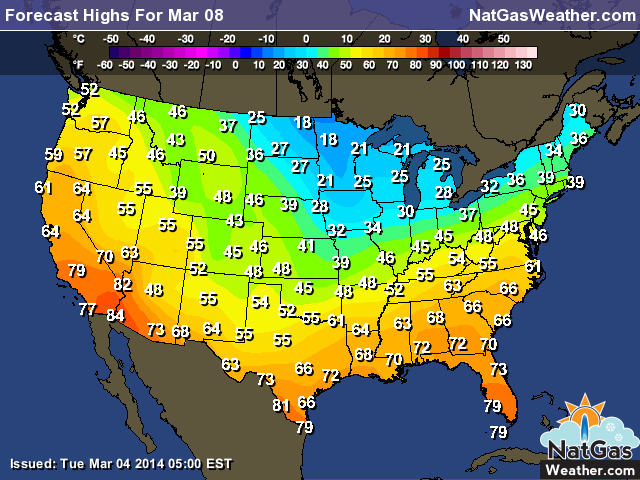 Saturday will be the mildest day this week as a brief warm surge ahead of a cold front warms afternoon temperatures into the 40s for most high populations cities. Fresh cold air can be seen sweeping into the northern Plains and Midwest.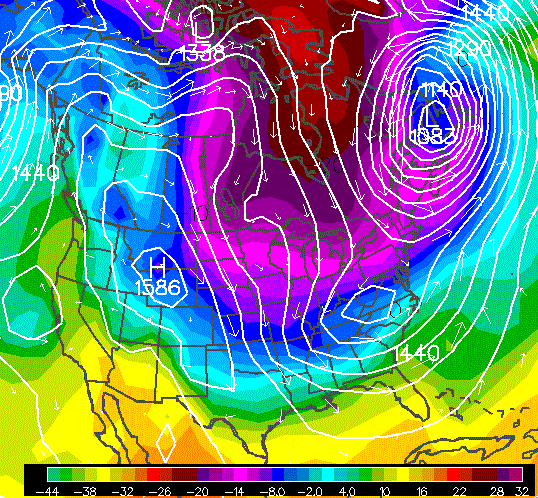 Around March 15th the pattern favors more cold blasts and strong winter storms. The image shows the latest GFS with strong storms setting up and impressive cold air diving deep into the southern US. We are not saying this is going to play out like this, merely the pattern favors these types of events happening. What is going to be very important is how much of that cold air near the poles gets tapped into S. Canada. That is one of the struggles of the forecast models.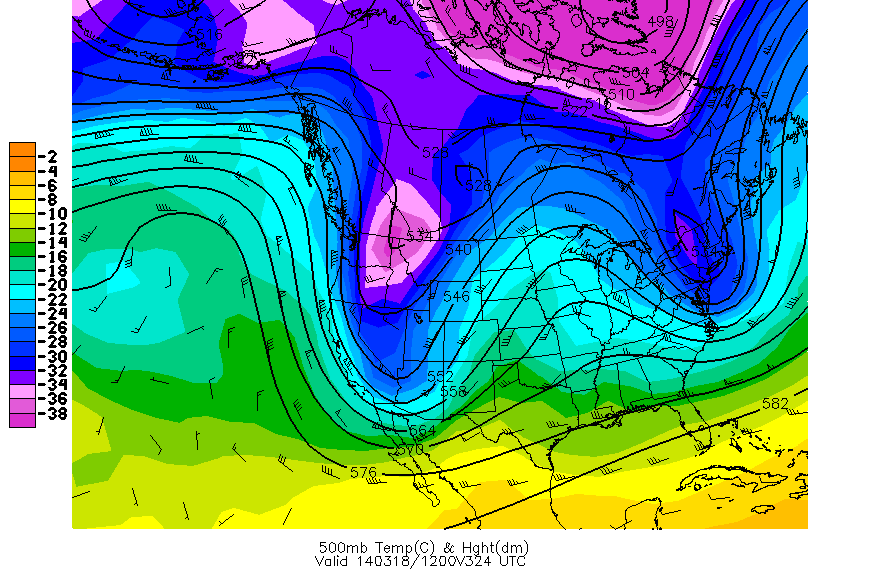 How the pattern plays out after March 15th is a bit uncertain. The latest brings a storm into the western US which allows for a nice surge of warmer conditions into the Midwest and Northeast. We are not convinced that's how the pattern will play out but it is possible.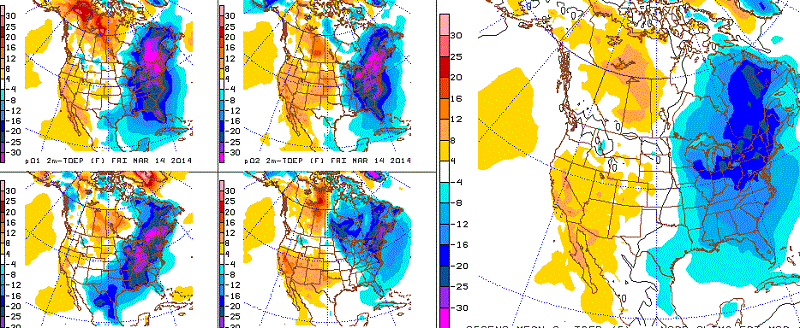 Around Mach 14th another strong cold blast will have pushed through and put the central and eastern US back into below normal conditions. The image shows potential ways the pattern plays out with all of them providing a solution that would bring conditions 10-30F colder than normal with the highest values over the highest use states of the northern US. The image on the left shows some of the GFS solutions. The bigger image on the right is blending of all GFS solutions for March 14th.