NatGasWeather.com Subscription
Subscribe To Our Daily Nat Gas Weather Reports or Live HDD/CDD Data Here
NatGasWeather.com  provides daily weather forecasts focused on the nat gas industry, specifically how weather will effect pricing.  We charge a fee of $69, which we feel is a quite reasonable, especially if you are trading any ETF's or futures related to the nat gas markets. You will also receive hurricane, summer, and winter outlooks, as well as updates on El Nino among others.
We offer two different packages. One is subscription to our Daily Reports, Mid-Day Updates, and Outlooks for $69/month. Our second service is access to our Live HDD/CDD Weather Models Statistics & Machine/Learning/AI data and our NatGasWeather.com LIVE forum and commentary, highlighting real time important weather trends. This service is $99/month. We offer a discounted rate of $119/month if you subscribe to both. 
Subscribe to our Daily Reports Here:
NatGasWeather.com offers daily weather forecasts emailed to you before the markets open which highlights weather of concern over the coming 2 months for the nat gas and heating markets.  It is typically 10 pages in length with selected images included and is followed with an update mid-day after fresh forecast data comes in.  Also included is tracking HDD/CDD for EIA weekly reports, as well as estimates in  Bcf. In addition, you will receive our exclusive Hurricane and Summer Outlooks as well as the Winter Outlook and Critical Weather Alerts for weather conditions that will move in nat gas prices and effect demand. The cost of the monthly subscription is $69 for individual investors. For companies wishing to subscribe, the price is $249 for up to 8 employees receiving all subscription benefits.   If you are not satisfied at any time, you can cancel without fee.
Your subscription includes:

Daily Weather Forecast
Mid-Day Pattern Update
Summer Outlooks
Hurricane Forecast
Winter Outlooks

  Price:

$69 monthly per individual
$249 for up to 8 people
$299+ for 10+ people (contact us for a price quote)
To Subscribe:
Email us at:  helpdesk @ natgasweather.com
Call us –   1888-724-9915
We process Paypal or Authorize.net    Click the button below to subscribe through paypal  Contact us at helpdesk@natgasweather.com to set up monthly billing through Authorize.net.
Credit Card Transaction – Call or email and we will process for you.  All countries.
Subscribe to our Live HDD/CDD Weather Model Statistics & Live Forum Here:
Live HDD & CDD Weather Model Data
We offer live weather model based heating and cooling degree data as the weather models are released throughout the day. We believe our method of calculating HDD & CDD's is superior and very scientific based, resulting in very accurate HDD & CDD statistics. Subscription to our Live HDD/CDD weather statistic data also includes our Machine Learning/AI Analytics for the coming three EIA Weekly Storage Reports and access to our private real-time forum on enelyst.com. Our weather statistics are provided for all major weather models, including the Climate Forecast System (CFS) that forecasts out 45-days. We also can provide customized statistics for clients for any location in the world.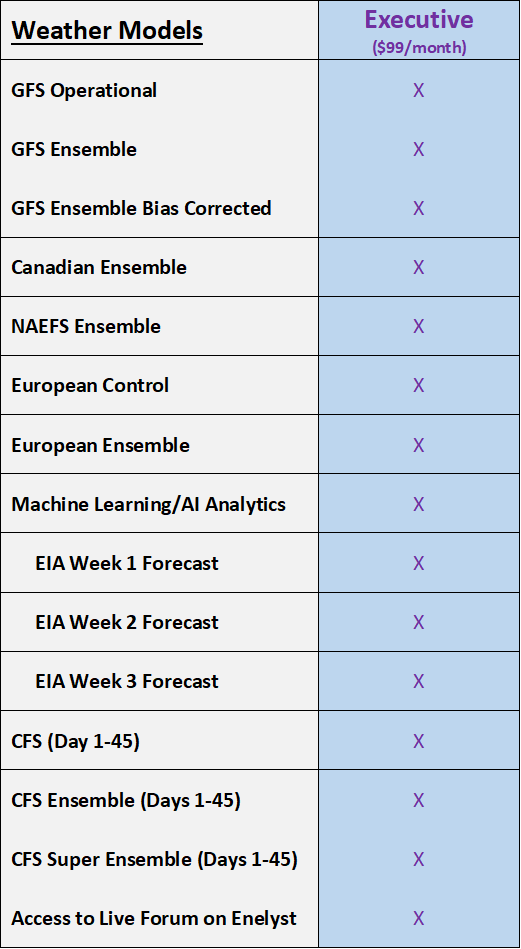 We expect you will find our HDD and CDD tables, graphs, maps, and analytics extremely useful in catching price moves as we provide the data ahead of as fast as major market participants receive it. In additional to national totals, we can provide customized real time HDD/CDD output for EIA regions down to user defined areas and scales, making the data very useful for energy companies or location specific interests.
 
As part of your Live HDD/CDD subscription, you will also have access to our private forum on the enelyst.com platform where we provide live commentary focusing on real-time weather model statistics and maps used to highlight important weathe trends.
 
If you are interested in subscribing to both our Daily Forecast and Live HDD/CDD Weather Statistics package, email us at helpdesk@natgasweather.com for a discount price.
 
Click on the small subscribe image/button immediately below.