We offer live weather model based heating and cooling degree data as fast as the weather models are released throughout the day.  We believe our method of calculating HDD & CDD's is superior and very scientific based, resulting in very accurate HDD & CDD statistics.  Subscription to our Live HDD/CDD weather statistic data also includes our Machine Learning/AI Analytics for the coming three EIA Weekly Storage Reports and access to our private real-time forum on enelyst.com.  Our weather statistics are provided for all major weather models, including the Climate Forecast System (CFS) that forecasts out 45-days. We also provide live updating HDD/CDD statistics for all five EIA regions. We also can provide customized statistics for clients for any locations in the world.  Subscription price to the Live HDD/CDD Data is $99/month.  For access to the Live HDD/CDD Data and receiving our Daily Reports and Updates is $119/month.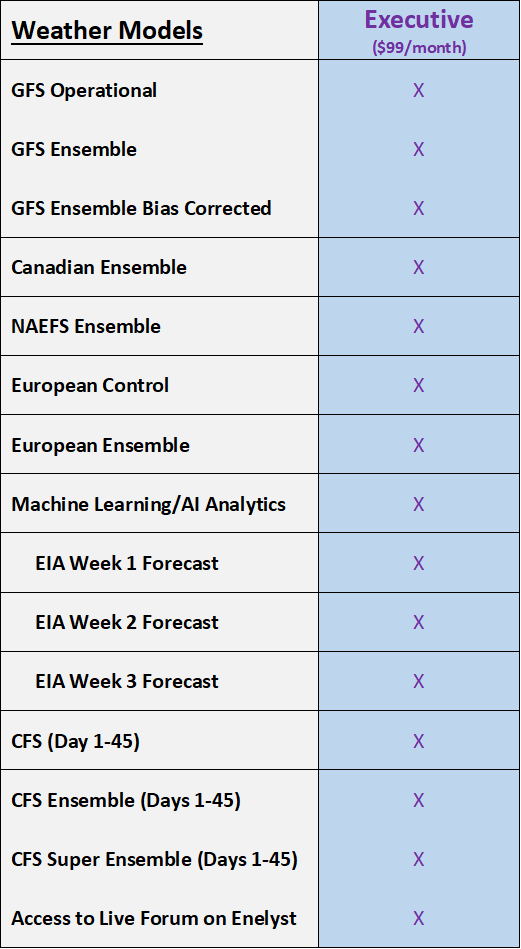 We expect you will find our HDD and CDD tables, graphs, maps, and analytics extremely useful in catching price moves as we provide the data ahead of as fast as major market participants receive it.   In additional to national totals, we can provide customized real time HDD/CDD output for EIA regions down to user defined areas and scales, making the data very useful for energy companies or location specific interests.
As part of your Live HDD/CDD subscription, you will also have access to our private forum on the enelyst.com platform where we provide live commentary focusing on real-time weather model statistics and maps used to highlight important weathe trends.
If you are interested in subscribing to both our Daily Forecast and Live HDD/CDD Weather Statistics package, email us at helpdesk@natgasweather.com for a discount price.
NatGasWeather.com also provides Live updating weather tables and graphs for all 5 EIA regions. Our proprietary way of calculating HDD/CDD's across the country is statistically very accurate and exceptionally fast. We provide Live updating weather model data 24-hours a day, 7-days a week. This includes the European, GFS, NAEFS, Canadian, and 45-day CFS. Our graphs and tables update Live so you can see how temperatures are trending in all 5-EIA regions and nationally as fast as the nat gas markets see it. The subscription includes all 5 EIA Regions and National HDD/CDD/TDD forecast values. Contact us for a free 1-week trial.