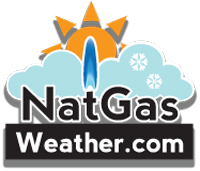 NatGasWeather.com - Daily Reports & Live HDD/CDD Statistics
Latest Friday News: Overnight Weather Data Trends Cooler, Adds Several HDDs. Ian Soaks Mid-Atlantic Coast.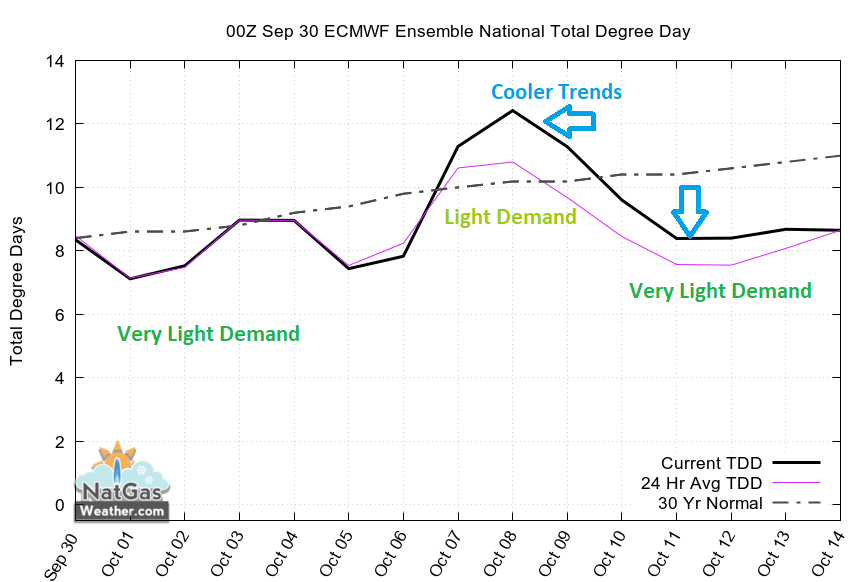 Friday:   After cooler trends yesterday, both the GFS and EC trended further cooler overnight, with the GFS gaining 4 TDDs but the EC a heftier 9 HDDs. Most of the demand was added in the 8-15-day period, and mainly due to cooler trends across the Great Lakes and Northeast Oct 7-10 as a cooler than normal weather system tracks through. But overall, the coming pattern is still solidly bearish. But since demand was added, will this be a new reason bulls buy the dip to push Nov'22 prices to near or over $7? Image above is from out Live HDD/CDD data and highlights added TDDs over the past 24-hour in the EC model.
US Natural Gas Weather Forecast
NatGasWeather.com provides daily weather forecasts focused on the nat gas industry, specifically how coming weather patterns will affect heating demand and potentially prices.  You will also receive hurricane, summer, and winter outlooks, as well as updates on El Nino/La Nina.
NatGasWeather.com offers daily weather forecasts with the focus on weather conditions that will drive nat gas and heating demand over the coming 2-3 weeks. It is typically 4 pages in length with selected images included and is followed with a Mid-Day update issued after fresh forecast data comes in. In addition, you will receive our exclusive Hurricane and Summer Outlooks as well as the Winter Outlook and Critical Weather Alerts for weather conditions that could cause big spikes in nat gas and electricity demand. The cost of the monthly subscription is $69 for individual investors, which is less than the price of a few ticks moves in the futures markets. For companies wishing to subscribe, the price is $249 for up to 8 employees receiving all subscription benefits. If you are not satisfied at any time you can cancel without fee. We also offer Live HDD/CDD weather model statistics as a separate service. For more information click here.
Your subscription includes:
Daily Weather Forecast
Mid-Day Pattern Update
Summer Outlooks
Hurricane Forecast
Winter Outlooks
$69   monthly per individual for Daily Reports & Midday Updates
$99   Access to LIVE HDD/CDD Weather Model Statistics (GFS & ECMWF)
$119    For Both Daily Reports/Updates & Access to Live HDD/CDD Data
$250   6-months for Daily Reports & Updates (click here)
$500   6-months for Live HDD/CDD Data & Live Daily Reports & Updates (click here)
Email us at:  helpdesk @ natgasweather.com
Call us – 1888-724-9915
Sign Up Monthly

Paypal click the subscribe button below for monthly billing  (you do not need a paypal account)
Authorize.net   contact us at:   helpdesk @ natgasweather.com to set up monthly billing through Authorize.net

Any Credit Card – Call or email and we will process for you, regardless of country.
This Weeks Nat Gas Demand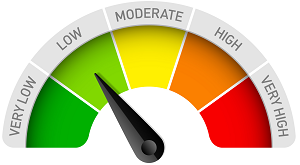 Sep 30-Oct 6:  Much of the US will be comfortable w/highs of 70s and 80s besides hotter upper 80s to lower 90s S. California to Texas and cooler 60s across the Midwest and Northeast as an early Fall weather system exits. Tropical cyclone Ian will bring heavy rains and gusty winds to the Mid-Atlantic Coast the next few days w/highs of 70s to lower 80s. Overall, light national demand on a mix of weak HDDs & CDDs.
Sep 29: EIA Report vs Normal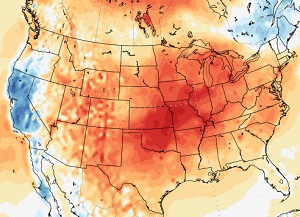 EIA Nat Gas Report: Sep 29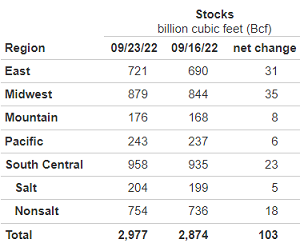 Nat Gas In Underground Storage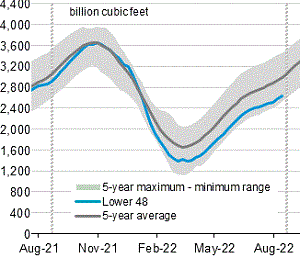 September 29:   Today's EIA weekly nat gas storage report printed a build of +103 Bcf, larger than market expectations of +95-98 Bcf, increasing supplies from 2,874 to 2,977 Bcf, while improving deficits to -306 Bcf. Next week's build is expected to also be larger than the 5-year average to further improve deficits.
Live Wx Model HDD/CDD Data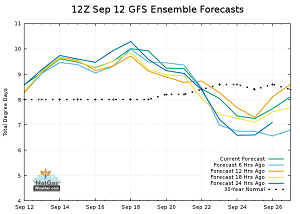 We also provide Live Weather Model HDD/CDD Statistics as a separate service. To learn more click 
HERE
.