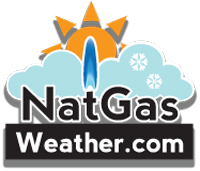 NatGasWeather.com - Daily Reports & Live HDD/CDD Statistics
Latest Monday News: Cooler Weekend Trends Lead to Strong Selling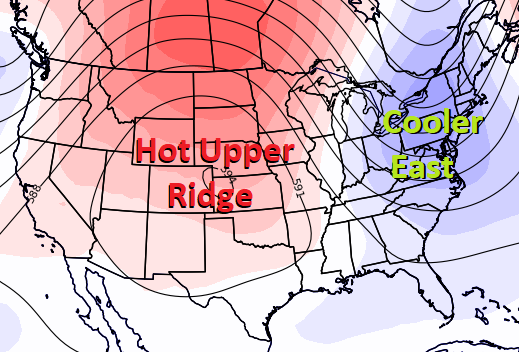 Monday:   From Sunday's Daily Report before the open:  "Selling occurred Friday afternoon and was attributed to the GFS model shedding 15 CDDs on cooler trends.  The GFS had been nearly 20 CDDs hotter than the EC before giving back demand Friday to finally become better aligned.  Cooler trends continued over the weekend with the GFS shedding 3 CDDs, while the EC was down a heftier 9 CDDs and could be reason for a lower open.  The coming 15-day pattern is still slightly bullish due to national CDDs being above normal most days.  However, with much more comfortable temperatures arriving over the East Aug 10-20, national demand just won't be nearly as intimidating as it's been the past 6-weeks.  To that point, weather patterns could disappoint." 
US Natural Gas Weather Forecast
NatGasWeather.com provides daily weather forecasts focused on the nat gas industry, specifically how coming weather patterns will affect heating demand and potentially prices.  You will also receive hurricane, summer, and winter outlooks, as well as updates on El Nino/La Nina.
NatGasWeather.com offers daily weather forecasts with the focus on weather conditions that will drive nat gas and heating demand over the coming 2-3 weeks. It is typically 4 pages in length with selected images included and is followed with a Mid-Day update issued after fresh forecast data comes in. In addition, you will receive our exclusive Hurricane and Summer Outlooks as well as the Winter Outlook and Critical Weather Alerts for weather conditions that could cause big spikes in nat gas and electricity demand. The cost of the monthly subscription is $69 for individual investors, which is less than the price of a few ticks moves in the futures markets. For companies wishing to subscribe, the price is $249 for up to 8 employees receiving all subscription benefits. If you are not satisfied at any time you can cancel without fee. We also offer Live HDD/CDD weather model statistics as a separate service. For more information click here.
Your subscription includes:
Daily Weather Forecast
Mid-Day Pattern Update
Summer Outlooks
Hurricane Forecast
Winter Outlooks
$69   monthly per individual for Daily Reports & Midday Updates
$99   Access to LIVE HDD/CDD Weather Model Statistics (GFS & ECMWF)
$119    For Both Daily Reports/Updates & Access to Live HDD/CDD Data
$250   6-months for Daily Reports & Updates (click here)
$500   6-months for Live HDD/CDD Data & Live Daily Reports & Updates (click here)
Email us at:  helpdesk @ natgasweather.com
Call us – 1888-724-9915
Sign Up Monthly

Paypal click the subscribe button below for monthly billing  (you do not need a paypal account)
Authorize.net   contact us at:   helpdesk @ natgasweather.com to set up monthly billing through Authorize.net

Any Credit Card – Call or email and we will process for you, regardless of country.
This Weeks Nat Gas Demand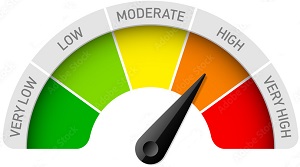 Aug 8-14:  A weather systems will track across the Midwest the next few days w/showers and highs of 60s to 80s. The rest of the US will be under hot high pressure to open the week w/highs of 90s-100s, including mid-90s major East Coast cities. The Midwest weather system will track into the East Wed-Sun w/highs of 70s and 80s to ease national demand despite hot high pressure holding strong over the western, central, and southern US. Overall, strong to very strong demand Mon-Tue, then easing to moderate-high later in the week and this weekend.
Aug 11: EIA Report vs Normal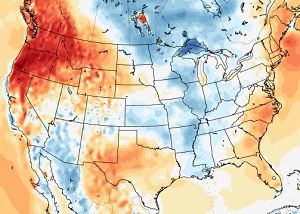 EIA Nat Gas Report: Aug 4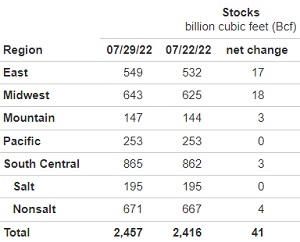 Nat Gas In Underground Storage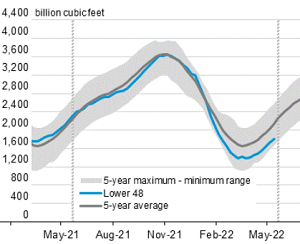 August 4:   Today's EIA weekly nat gas storage report printed a build of +41 Bcf, larger than market expectations of +32 Bcf and slightly larger than the 5-year average of +33 Bcf to improve supplies from 2,416 Bcf to 2,457.  This improved deficits slightly to -337 Bcf. Next week's build is expected to again be near to a little larger than the 5-year average.
Live Wx Model HDD/CDD Data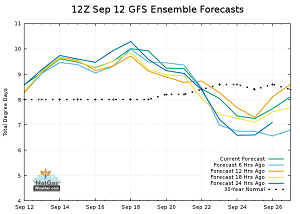 We also provide Live Weather Model HDD/CDD Statistics as a separate service. To learn more click 
HERE
.