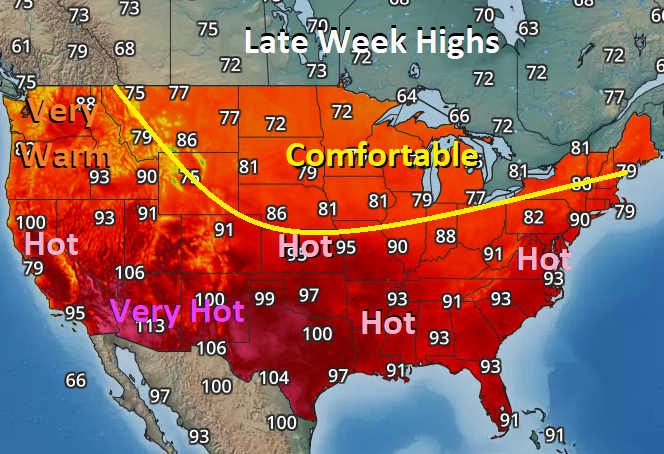 By natgasweather
Hot Pattern for Much of US Holding for Mid & Late July
July 10, 2023: Aug'23 nat gas prices were higher Friday going into the EIA storage report, then sold off after it printed a bearish miss, aided by a reclassification of an additional +4 Bcf to supplies. Prices sold off further Friday afternoon after the Baker-Hughes rigs report showed a surprise jump in week over week gas rigs by 11, ultimately closing 3¢ lower at $2.56. Strong selling the prior two sessions were attributed to production strong at 101-102 Bcf/day, slight cooler trends, and hefty surpluses of +366 Bcf.
Natural gas prices are higher to open the new trading week as a rather hot US pattern is forecast for July 13-23. There's still a few days of seasonal demand to get through first due to weather systems tracking across the Midwest and Northeast. National demand will increase to stronger levels later in the week as the East Coast warms into the upper 80s to lower 90s, while California to Texas experiences impressive heat w/highs of mid-90s to 100s. Recent weather data maintains very strong demand July 16-23 as much of the northern US warms into the 80s and 90s, while the southern US remains impressively hot w/highs of 90s and 100s. Overall, it's still a rather hot pattern for most of the rest of the US July 15-23 w/highs of upper 80s to 100s, especially in the EC, and one of the few times so far this winter the weather models have yet to back off on heat. To this point, the weather data is likely to be viewed as hot enough to satisfy and why prices are higher to open the new trading week.
Graph below is from our Live HDD/CDD data and shows a rather hot pattern from the ECMWF as daily national CDDs increase solidly above/hotter vs normal.