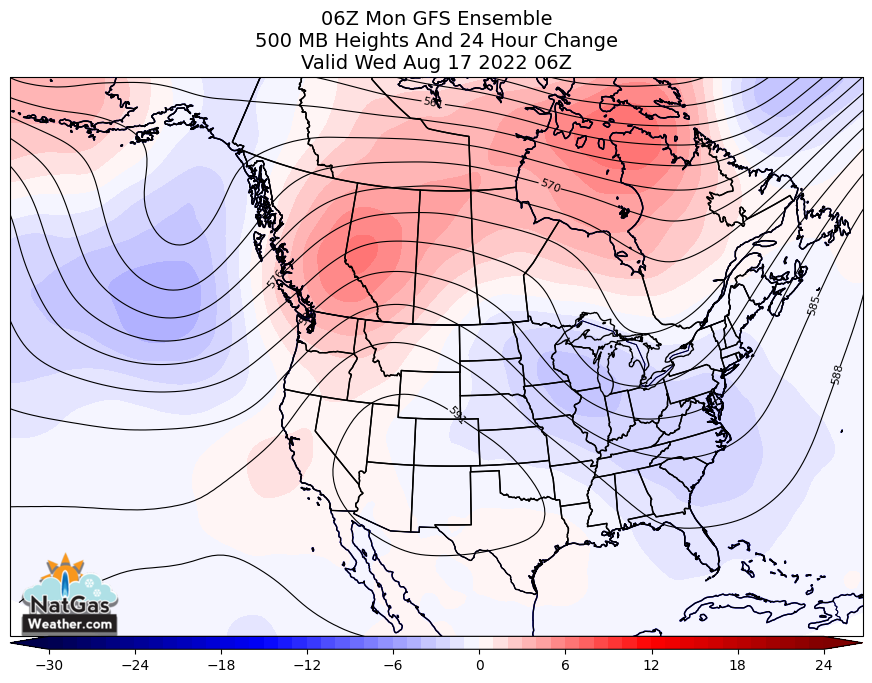 By natgasweather
Cooler Weekend Trends Lead to Strong Selling to Open New Week. Strong Production Aiding as Well.
August 8, 2022: Sep'22 nat gas futures were higher to $8.21 Friday, then sold off late to end the day 11¢ lower at $8. Selling was attributed to the afternoon GFS model shedding 15 CDDs on cooler trends. The GFS had been nearly 20 CDDs hotter than the EC before giving back demand Friday to finally become better aligned. Cooler trends continued over the weekend with the GFS shedding 3 CDDs, while the EC was down a heftier 9 CDDs and could be reason for a lower open. The coming 15-day pattern is still slightly bullish due to national CDDs being above normal most days. However, with much more comfortable temperatures arriving over the East Aug 10-20, national demand just won't be nearly as intimidating as it's been the past 6-weeks. To that point, weather patterns could disappoint. What's also weighed heavily on bearish sentiment last week was US production increasing to all-time highs of 98 Bcf/day, as well as Thursday's EIA storage report missing solidly bearish on a larger than expected build that suggested the supply/demand balance loosened more than the nat gas markets were expecting. To the bullish side remains tight US supplies with deficits near -335 Bcf versus the 5-year average, although could improve in the coming weeks due to stronger production and cooler trends.
The image above is from the GFS ensemble model data, where blue shading are cooler trends over the past 24-hours and there's plenty of it over the eastern US as weather systems cover more area and arrive cooler than what the GFS had been showing and more in line with the EC model.