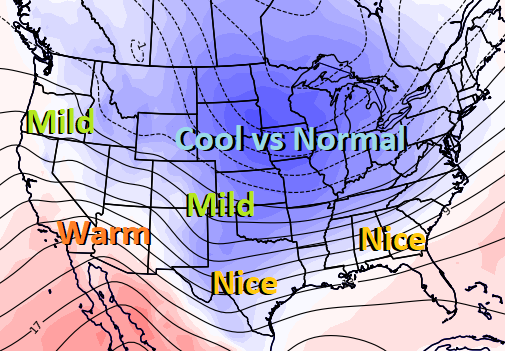 By natgasweather
Colder Trends Continue Over Weekend
Monday, April 11:
May'22 nat gas futures spiked to highs of the year Friday morning to $6.54, then sold off sharply to close 8¢ lower at $6.28. Selling was attributed to profit taking after a hefty 45% surge the past 3-weeks. Nat gas prices were wildly volatile last week, and we expect they will be again this week with continued daily 25-40¢ swings, aided by the Russian invasion of Ukraine and US gas supplies remaining tight into the start of May as deficits hold near -300 Bcf. The weather data at Friday's close forecast light demand Mon-Thu, followed by stronger than normal demand late this week into next week, both of which held. However, both the GFS and EC were a little colder with weather systems into the northern US late this week and lingered cold air longer for April 21-22, thereby keeping the April 16-21 period solidly to the bullish side.
We anticipate violent trade will continue this week and where a higher trade Monday is possible due to the weekend weather data gaining around 10 Bcf in demand, especially when considering bulls have bought every dip the past 3-4 weeks, including defending $6 twice last week. We continue to have concerns US gas prices could spike higher than many expect since nat gas prices often overextend on strong moves, but also due to the fact over the past year, bullish news/trends move prices higher, while bearish news/trends often gets ignored. And a plethora of bullish factors remain solidly in play, highlighted by US deficits holding near -300 Bcf, production failing to increase above 93-94 Bcf, a hotter than normal summer expected, inflation, and the continued Russian invasion of Ukraine. In addition, there's an exceptionally long holiday break next weekend due to Good Friday and where all US gas markets close Thursday afternoon, forcing major players to reposition in the days ahead.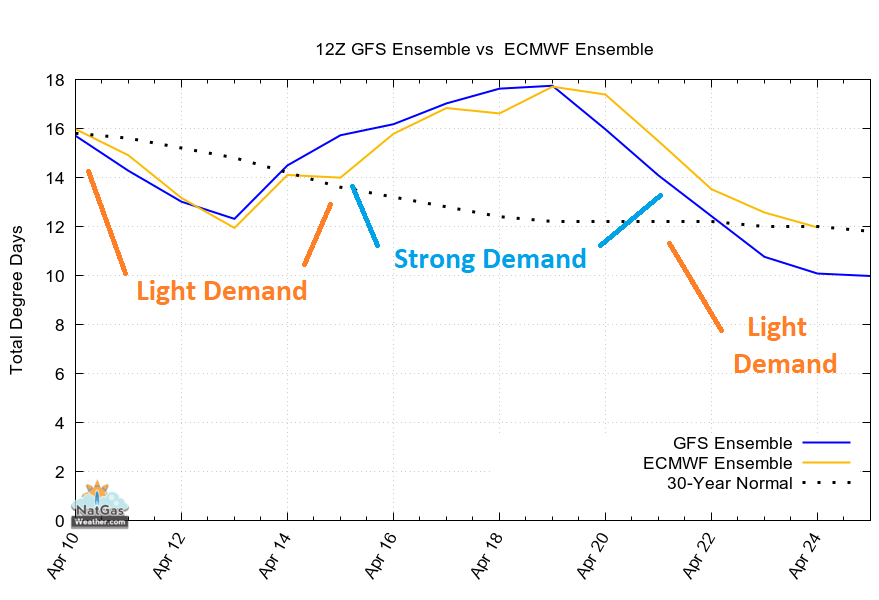 Caption: Both the GFS and EC agree on light demand the next 4-days, strong demand late this week into next week, then back to light around April 22-25. Graph above is from our Live HDD/CDD data.